Verse:
Avatar
Date:
(The date this sheet was completed.)
Full Name:
Kinguyakkii Nauja
Pronunciation:
Kin-goo-yahk-key Nau-jah
Nickname/Alias:
Kin (Mostly used by people who don't know her well, not used in formal situations), Kinny (Ataji only), Sesi (Most common among friends)
Meaning:
Kinguyakkii means "northern lights". Nauja means "sea gull". Sesi means "snow".
Origin:
By researching Inuit names. Kinguyakkii seemed to fit her best due to it's meaning, and I liked the sound of Sesi. Nauja flowed well.
Title:
Miss
Pet Name:
Ataji used to call her Kinny. A lot of her friends call her Sesi.
ID Number:
N/A
Signature:
Very careful and elegant.
Gender:
Female
Gender Role:
Feminine
Orientation:
Pansexual
Real Age:
16
Age Appearance:
16
Birthday:
The Ru Ming Shui era, of the year Jia-Zi, of the month Qi Yue, on the 16th day (Equivalent of the first year in the Ru Ming 氵era, July 16th)
Shorthand to: Ru Ming Shui Jia-Zi, 16th of Qi Yue
Deathday:
Alive
Birthplace:
Northern Water Tribe
Astrological Sign:
Cancer
Zodiac Sign:
Rat
Immediate Family:
Kinguyakkii grew up in a household with her parents, Sakari (mother) and Malik (father), maternal grandparents (Aluki - grandmother; Siluk - grandfather), paternal grandmother (Ataji), and older sister (Ataji).
Distant Family:
Kinguyakkii's maternal family is huge, stretching out several aunts and uncles and many more cousins. Her paternal family is almost non-existant, Malik being their only child.
Parenting:
Aluki and Siluk were very strict with the two girls. Ataji was more lenient with them. By contrast, Malik was the stricter of their parents, though Sakari could be terrifying. Malik, Sakari, and Ataji were very compassionate to the two girls while Aluki and Siluk were more withdrawn from that part. Towards the later years of her childhood Sakari and Malik began fighting and arguing, their grandparents quickly joining in, and their household quickly became unhealthy for several long years.
Upbringing:
Aluki and Siluk raised the two girls to value duty and Water Tribe tradition, though it didn't work much. Kinguyakkii's sister rejected that altogether. It made more of an impact on Kinguyakkii, however, given that she was the Avatar. Sakari and Malik instructed them in the ways of waterbending. They also taught them discipline, integrity, and compassion. That... more or less stuck with the girls.
Infancy:
Kinguyakkii was born the youngest of two girls, into a noble family in the Northern Water Tribe. Her older sister, Ataji, was 5 when Kinguyakkii was born. The first few years of Kinguyakkii's lives were filled with wonder and splendor, her family introducing her to the spirits and their traditions at a very early age. Though she obviously couldn't comprehend it, it definitely resonated within her. Especially the spirits, for which she was named after.
Childhood:
When Kinguyakkii was 4, as with all Water Tribe children born at the end of the Yu Zhen Qi era, she was tested for the Spirit of Raava by taking her to the Spirit Oasis to see how Tui and La would react to her. Tui and La reacted positively, the spots on their heads glowing in proximity to the Avatar. With the naming of the new Avatar the calender was changed, Kinguyakii's birth era/year going from Yu Zhen Qi Ji Mao to Ru Ming Shui Jia-Zi and changing the current date from Yu Zhen Qi Gui Wei to  Ru Ming Shui Ding-Mao.
Kinguyakkii, of course, was not alerted of her Avatar status and she went through her childhood with the assumptions that she was a normal waterbender. Her mother instructed her in waterbending, however due to the commands of the Tribe leader she was also instructed in how to fight by the male waterbenders. She was never taught of how special this was, only told that the lessons were secret and she mustn't tell anybody. As she was a child, and a romantic one at that, she went along with it.
Her childhood was also filled with instructions of various sorts. As a Northern Water Tribe noble member her education was considered very important, and she was brought up with lessons in history, culture, world affairs, mathematics, economics, etiquette, art, religion, and sciences - including navigation. Ataji disliked most of it, but Kinguyakkii loved it. Especially the lessons about other cultures. They received extra education on the Fire Nation, due to their grandfather, which was the only part Ataji really seemed to enjoy.
Towards the later years of her childhood, around 10-12, Kinguyakkii began displaying odd symptoms of being the Avatar. Symptoms that the elders of the tribe said were rarely recorded. She would have nightmares about other lives (her past lives, though she didn't know it at the time) and was prone to going into the Avatar state at random, suffering amnesia after these attacks. They prompted her parents to start fighting, her grandparents soon joining in. This was when Ataji and Kinguyakkii really started bonding, Ataji protecting her sister from the wrath of their parents and being there for her during an "attack" or a nightmare.
Adolescence:
In her early teenage years Kinguyakkii was given special spiritual attention from the elders, meditating frequently and often retreating to the safety of the Spirit Oasis. In time this helped slow, and eventually stop, the Avatar state attacks. It didn't stop her nightmares, however, which progressed through her entire life.
When Kinguyakkii was 14 her sister suddenly left them. She left in the middle of the night, trying not to alert anyone, but Malik heard her and caught up with her. Ataji told him she was leaving, and before he could stop her she was on a boat and gone, going off to the Fire Nation. Kinguyakkii was devastated, unable to process it at first and then quickly turning to anger. During this period of anger her Avatar state became chaotic again, and the elders had to work furiously to get her to calm down and find peace with Atajis departure. Kinguyakkii never did find complete peace, but she did get over her anger. It turned into confusion instead, leading Kinguyakkii to strive to find out why Ataji left.
But this didn't last long, because soon Kinguyakkii was faced with another change in her life. On her 16th birthday the elders revealed to her that she was the Avatar, effectively bringing her peace to her confusion about her past bouts of amnesia and nightmares as well as explaining her combat training. On the eve of her birthday she packed up her things and left the Water Tribes, seen off by the entire Northern Tribe, to begin her journey as the Avatar.
Adulthood:
N/A
Coming of Age:
Kinguyakkii matured greatly through her childhood years, especially with her interest in the spirits. But her real turning point into adulthood was on her 16th birthday.
Evolution:
Kinguyakkii was always a mature, content child. Often with an excited smile on her face. This soon grew into discontent and dismay when her family began fighting, causing her intense inner turmoil. This turned back into relative content when the elders helped her balance her chi. There was another dark period, an intense and violent one, when Ataji left but - again - the elders helped her calm down. Now she's back to that maturity and content, though she's far more world-wise.
Species:
Human
Ethnicity:
Inuit
Blood Type:
O+
Preferred Hand:
Ambidextrous
Facial Type:
Heart
Eye Color:
Blue
Hair Color:
Brown
Hairstyle:
Kinguyakkii's hair is feathered and layered, falling down to her shoulders and upper back.
Her most usual hairstyle has two braids starting from behind her ears and falling down to hang over her shoulders and chest. There are two more braids, with the same starting place, that wrap around her head to tie in the back.
In formal situations Kinguyakkii will comb out her hair until it's voluptuous, sealing it into that with wax - which also darkens it and shines it slightly. She then wears it with the same wrap braids but instead of the other two braids there's just one on the left side, hanging in front of her ear. It's all adorned with beads and feathers.
To bed she'll usually braid her hair or wear it loose.
Skin Tone:
Olive
Complexion:
Smooth, gold undertones.
Makeup:
Kinguyakkii almost always wears dark eyeliner, and sometimes blue eyeshadow. She'll wear red lipstick when she wears Fire Nation fashion, but otherwise she doesn't wear it.
Body Type:
Hourglass
Build:
Kinguyakkii has the build of a dancer. She's petite, with long limbs and a graceful, slender body.
Height:
5'5
Weight:
110 lbs
Cup Size:
32C
Facial Hair:
None
Shoe Size:
7.5
Birthmarks/scars:
She has a beauty mark under her left eye.
Distinguishing Features:
Her beauty mark.
Health:
Kinguyakkii is extremely healthy physically. Mentally she is plagued by nightmares of her past lives, but tries not to let that bother her.
Energy:
Kinguyakkii is more energetic than the average person, even the average bender, due to the spirit of Raava.
Memory:
Kinguyakkii's basic memory is that of the average person, though due to the spirit of Raava she can meditate and during this can recall any of her own, as well as past lives', memories with perfect clarity.
Senses:
She has sharp eyesight, a requirement for living in the North Pole.
Allergies:
Hazelnuts.
Handicaps:
None.
Medication:
She doesn't take any medication, however she does meditate frequently and drink several acute forms of herbal tea to help her nightmares.
Phobias:
Like any Avatar she has a crippling fear of losing the spirit of Raava, or of Raava being harmed.
Addictions:
None.
Mental Disorders:
Kinguyakkii doesn't have any mental disorders to name, but she's prone to panic or shutdowns if her nightmares get too intense. Her panics usually end quickly, and in her entire life she's only had one shutdown due to a nightmare of one Avatar's grisly demise at the hands of several bounty hunters.
Style:
Kinguyakkii switches between Water Tribe and Fire Nation fashion. Most of the time she's in Water Tribe outfits, but occasionally - mainly when in the Fire Nation - she'll wear Fire Nation fashion. She prefers practicality when wearing Water Tribe clothing, and prefers light dresses and metallic jewelry when wearing Fire Nation clothing. During formal situations she will always, without exception, where Water Tribe formal outfits.
When sleeping she prefers a light tank top and shorts.
Mode of Dress:
Kinguyakkii has always had an artistic eye, and that's no exception in her fashion. She wears everything impeccably, well-studied in manners of dress among the different nations.
Grooming:
Well-kept.
Posture:
She presents herself like she was taught: Perfect posture, and a smile on her face.
Gait:
She has a relaxed stride, falling easily into step.
Coordination:
Kinguyakkii is extremely physically fit, having build up her strength and stamina from a very early age. Her reflexes are incredibly sharp as well, due to the Raava's experience.
Habits and Mannerisms:
She'll play with her braids when she's bored. When she's nervous she'll get uncharacteristically quiet.
Scent:
She always carries a faint scent of the sea and jasmine. She usually wears perfume.
Mood:
People are most likely to catch Kinguyakkii in a content, positive mood, with a serene smile on her face.
Attitude:
Kinguyakkii interacts easily with people. Years of studies made social situations a pinch for her, though she's still trying to figure out how to do this and be the Avatar in a setting at the same time.
Stability:
She's very emotionally consistent, unless something REALLY big happens.
Expressiveness:
It varies. She's usually fine with showing her emotions, or incapable of hiding them. But she'll hide them if she's focusing on another person's emotions.
When Happy:
Always a small smile, laughter comes out in giggles, very in tune with nature when she's happy.
When Depressed:
It'll start with her getting very quiet. She's very quick to cry, something she hates.
When Angry:
When irritated with someone she'll usually portray it with sass and a smile. When enraged, however, she becomes either cold as ice, or utterly explosive (usually with the Avatar state involved here).
Note:
These are generalizations. Different situations will create different reactions.
Current Residence:
She's traveling right now.
Community:
Kinguyakkii considers her community to be the Northern Water Tribe.
Family:
Ataji Nauja/Kaki:
Ataji is Kinguyakkii's older sister. She was 5 when Kinguyakkii was born, making her 21 currently. Ataji was born with FAR more Fire Nation genetics than the rest of her family, taken from the genes of her paternal grandfather. As a result Ataji was Fire Nation in ethnicity, with almond-shaped eyes, sharp features, fair skin, and black silky hair. She usually showed off her Fire Nation heritage with red or pink eyeliner. In addition to this Ataji was a firebender. In fact, if you took Ataji and put her next to the rest of her family you wouldn't be able to tell they were related at all.
Ataji was very protective of Kinguyakkii when they were younger, but as she grew up she became annoyed with her future role as the head of the family, finding that she related with the Fire Nation far more than the Water Tribes. Not wanting to be forced to remain in the Northern Tribe and lead her family she left the Tribe to go to the Fire Nation, where she changed her name to Kaki and took on a new identity as a firebending bounty hunter.
Sakari Nauja:
Sakari is Kinguyakkii and Ataji's mother. She is a waterbender and was 31 when Kinguyakkii was born, making her currently 47. She was born the eldest sibling of her family, a very prestiguous noble family in the Northern Tribe. When she was 16 she was betrothed to Malik, and they married when they were both 19. She is both a politician and a healer.
Malik Arnaq:
Malik is the girls' father. He's a waterbender and was 34 when Kinguyakkii was born, making him currently 50. He was born the only child of his family, who was directly descended from the last waterbending Avatar, making them very prestiguous. He's a very well-known and well-respected politician as well as a skilled fisherman.
Siluk Nauja:
Siluk is Sakari's father. He was a powerful politician in the Tribe before he retired. He was 68 when Kinguyakkii was born, making him currently 84.
Aluki Nauja:
Aluki is Sakari's mother. She married into Siluk's family. She was 67 when Kinguyakkii was born, making her currently 83.
Malina Nauja:
Malina is Sakari's younger sister. She is a waterbender. She was 30 when Kinguyakkii was born, making her currently 46.
Qajak Nauja:
Qajak is Sakari's younger sister. She is a waterbender. She was 26 when Kinguyakkii was born, making her currently 42.
Nanouk Nauja:
Nanouk is Sakari's younger brother. He's a waterbender. He was 24 when Kinguyakkii was born, making him currently 40.
Puja Nauja:
Puka is Sakari's younger sister. She's a waterbender. She was 12 when Kinguyakkii was born, making her currently 28.
Pimniq, Asuilaak, Nuniq, Qaiyaan, Nirliq, Tupik, Inusuk, Ila, Estuuya Nauja:
Kinguyakkii's cousins. All waterbenders. Pimniq (f)(19) and Asuilaak (f)(17) born to Malina. Nuniq (m)(18) born to Qajak. Qaiyaan (m)(15), Tupik (m)(15), Inusuk (f)(12), and Ila (f)(

born to Nanouk. Estuuya (f)(1) born to Puja.
Ukiuk Nauja:
Male, 2. Waterbender. Son of Pimniq.
Ataji Arnaq:
Malik's mother. Waterbender, directly descended from the last waterbending Avatar. She was 72 when Kinguyakkii was born, making her currently 88. She's very peaceful and compassionate, and is a spiritual elder.
Minoru Wakahisa:
Malik's father. Firebender. Married into Ataji's family. He died at age 56.
Friends:
Akemi and Vavi
Enemies:
None, currently
Bosses:
None, though the leader of the Northern Water Tribe likes to think she answers to him.
Followers:
Many people look up to her, though none actually do her bidding.
Heroes:
The past Avatars.
Rivals:
Kaki.
Relates to:
tba
Pets/Familiars:
Kinguyakkii, like all Avatars, has an animal companion. It's an arctic wolf, who used to be pure white in the North Pole, but since then has shed its coat to a mottled tan and brown one to suit the warmer climate. His name is Punja.
Wardrobe:
Usual wear: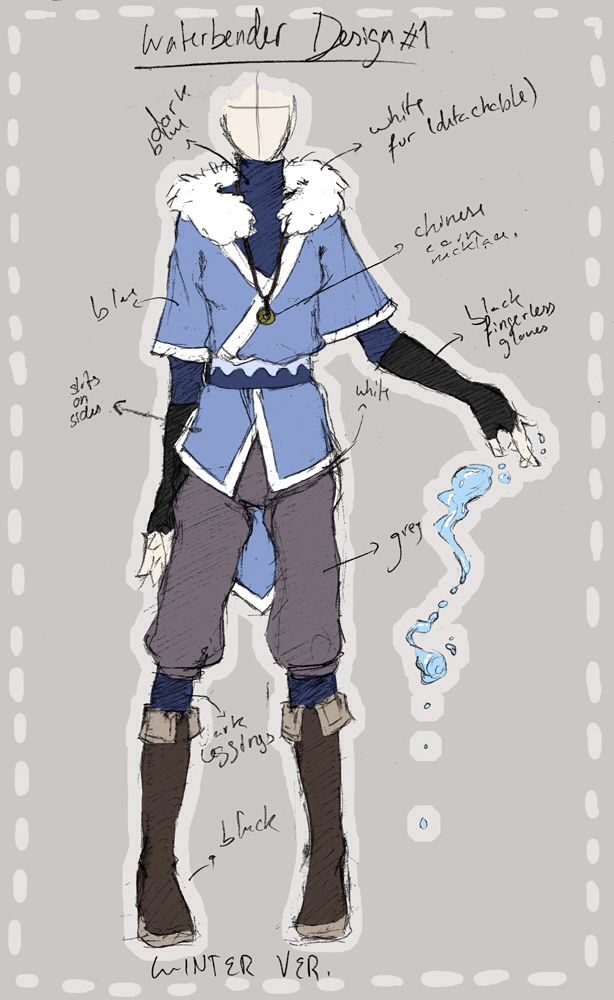 Warmer wear: Remove undershirt and fur, extend tunic length, turn pants into grey leggings.
Semi-formal: Orange fire nation dress, sari style.
Formal: Dark blue water tribe dress.
Sleepwear: Usually a white tank top and grey shorts.
Equipment:
Kinguyakkii carries a waterskin with her for her waterbending. Other than that she doesn't carry many tools, and doesn't carry weapons.
Spoiler:
Accessories:
Kinguyakkii does enjoy adorning herself with jewelry. In her usual garb she wears a chinese coin necklace. When she wears Fire Nation clothes she prefers metallic jewelry, usually bracelets, necklaces, and earrngs. When in formal wear she adorns herself with water tribe chokers, earrings, beads, and feathers.
Trinkets:
She carries around a chinese coin necklace, the coin having belonged to her paternal grandfather.
Funds:
Not a whole lot on hand, a lot at home.
Home:
Kinguyakkii's house in the Northern Water Tribe is extremely large and prestiguous, given her family. There's a large main room, along with a seperate kitchen area, and a large dining room. There are seperate, cut off rooms on the first floor for quieter areas. Bedrooms are all on the second and third floors.
Neighborhood:
Her neighborhood was always filled with nobles. It was clean, polite, and usually snooty.
Transportation:
Walking. Boats.
Collections:
She collects old trinkets. Things with history and stories.
Most valuable possession:
Punju.
Prized Possession:
Punju and her necklace.
Lovers:
None. She was never allowed.
Marital Status:
Single.
Sex Life:
Non-existent.
Type:
Banquet
Turn-Ons:
(What does your character want to see in their ideal mate?)
Turn Offs:
(What tends to make them back off)
Occupation:
None, unless you count being the Avatar.
Work Ethic:
She takes her job as the bridge and peacebringer very seriously.
Rank:
She's very high up in rank, given that she's noble-born and the Avatar.
Income:
None.
Wealth Status:
Upper-class.
Experience:
She has experience in political affairs, but barely any "real world" experience.
Organizations/Affiliations:
Being the Avatar she tries to cut herself away from affiliations and nationalities, though she does identify as being part of the Water Tribes.
IQ:
High
Education:
Her education was extremely good.
School:
She did not go to school, instead she and her sister had tutors.
Grade:
She got mostly high marks, and when she didn't she would be punished.
Special Education:
Lessons in waterbending fighting.
Social Stereotype:
She doesn't really fit into any social stereotype.
Degrees:
NA
Intelligence:
Spatial, Kinesthetic, Naturalistic
Extracurricular Activities:
NA
Religion:
Kinguyakkii, like the vast majority of people, believes in the spirits whole-heartedly. Since she's the Avatar and has seen spirits.
Morals:
Kinguyakkii's morals are very individualistic. She sees "right" and "wrong" in terms of individual people and their pain. She can see a larger scale as well. Her sense of right is what causes the least pain and aggression, and her sense of wrong is what causes the most pain and aggression.
Crime Record:
Spotless.
Motivation:
Her motivation is her duty as the Avatar, and her close relationship with the spirits.
Priorities:
First:
Maintaining a strong connection with the spirits and learning more about them and their world.
Second:
Creating and maintaining peace among the nations, as well as reducing suffering among the people.
Third:
Assisting her friends and family and making sure they're at peace and not suffering.
Philosophy:
That people should strive to help reduce suffering, while looking towards the bigger picture.
Political Party:
Liberal
Etiquette:
She's well-versed in the etiquette of various peoples and cultures, and maintains it to a t.
Culture:
Water Tribes:
Kinguyakkii is most comfortable among the culture and customs of the Water Tribe. As a noble she is granted many privileges for social settings. She reserves bowing to those of equal or higher status to her.
Earth Kingdom:
Kinguyakkii probably sees the Earth Kingdom as the most foreign to what she knows. She is decidingly awkward in Earth  Kingdom social settings, but at least she has the etiquette down.
Fire Nation:
Kinguyakkii feels both awkward and at ease in the Fire Nation. She's quick to adjust to their customs and culture, while keeping strong ties to her Water Tribe roots. It's probably the second-most comfortable.
Air Nation:
The Air Nation is special as it is a nation in name only. Kinguyakkii has spent years admiring and studying the ways of the Air Nomads, and is incredibly polite around them.
Influences:
Raava is Kinguyakkii's greatest influence, but aside from her Ataji has had the most impact on her life, affecting much of the way she views herself.
Traditions:
Kinguyakkii follows several Water Tribe traditions, but as the Avatar she gives herself more leeway than most people.
Main Goal:
Become a fully realized Avatar (Avatar state, four elements, spiritual enlightenment).
Minor Goals/Ambitions:
Travel the world and study the bending forms. Use a combination of forms and bending.
Career:
Does being the Avatar count.
Desires:
(What does your character want?)
Wishlist:
(What material items does your character want?)
Accomplishments:
(Did they succeed in any goals?)
Greatest Achievement:
(Self Explanatory)
Biggest Failure:
(Self Explanatory)
Secrets:
(Everyone has at least one)
Regrets:
(Self Explanatory)
Worries:
(What do they worry about?)
Best Dream:
(What would be the best thing that could possibly happen to your character?)
Worst Nightmare:
(The worst thing that could ever happen?)
Best Memories:
(A few stand out memories from the past. [keep it short and sweet])
Worst Memories:
(A few stand out memories from the past. [keep it short and sweet])
Hobbies/Interests:
(What does your character like to do for fun?)
Skills/Talents:
(Similar to hobbies, but refers to the level of skill a character has. For example, a character could like playing violin but isn't very good at it or vice versa.)
Likes:
(What does your character like?)
Dislikes:
(What can't they stand?)
Sense of Humor:
(Dark/dry/witty/sarcastic/dirty/childish/sophisticated/ironic)
Pet Peeves:
(Similar to dislikes, only more relating to human behavior than specific objects. Ex: When people tap on things or when people say "You're not fat!" when you really are)
Superstitions/Beliefs:
(Does your character believe in conspiracy theories or aliens? Do they throw salt over their shoulder or knock on wood?)
Dreams/Nightmares:
(What do they dream about? [at night])
Quirks:
(The strange little things that your character does to make them unique. Ex: Sleeps with their feet on the pillow or runs their hand along a pole as they walk beside it.)
Savvy:
(What is your character particularly well-informed of? [Ex: Politically, nature)
Can't understand:
(Something they just can't get into, such as English literate or obsession with sports)
Closet Hobby:
(Something that your character likes but isn't too obvious.)
Guilty Pleasure:
(You know...)
Strengths:
(What makes them stand a bit above the crowd? [Ex: Courageous, good listener, calm under pressure] Not supernatural abilities.)
Flaws:
(Refers to negative personality traits, not a weakness. Make sure it's a deep flaw that could actually affect your character, not something trivial like "She can't dance". [Ex: Lies constantly, socially backwards, hot-tempered])
Perception:
(How does your character generally see the world?)
Conflicts:
(What issues make your character want two things, but they can't have both?)
Instincts:
(What they are unconsciously driven to do)
Lures:
(What are they inexplicably drawn to be near? Ex: Power, money, the helpless)
Soft Spot:
(Their vulnerability, what they feel sorry for or have particularly good feelings toward)
Cruel Streak:
(What makes a character act against their usual morals, and act especially mean? (everyone has something that can do this to them))
Powers/Abilities:
(Here is where to put any superhuman powers and other abilities your character possesses. Be sure to balance them out with weaknesses, or your character loses credibility. This section may be optional depending on what genre you write.)
Origin:
(How did they get their powers?)
Source:
(How do they use their powers? [ex: shoots fire from hands, can read minds with their ring)
Ability:
(How adept are they at using said powers?
Weaknesses:
(Make it something that your character exclusively is weak to, and keep it credible. [Ex: A 4-headed radioactive dinosaur is not a credible weakness.])
Immunities:
([Ex: cannot be burned] Be very careful with this one.)
Restrictions:
(An absolute necessity for those with supernatural powers. [Ex: Can only breathe fire when angry or can only cast darkness spells twice a day])
Alternate Forms:
(Transformations, shape shifting abilities, dark side, ect.)
Extra Anatomy:
(Such as wings or a third eye)
Favorite Colors:
Favorite Animals:
Favorite Mythological Creatures:
Favorite Places:
(Ex: Fav City, State, or Country)
Favorite Landmarks:
(Ex: Eiffel Tower, Mt. Rushmore)
Favorite Flavors:
(Ex: Vanilla, Sour, Strawberry)
Favorite Foods:
Favorite Drinks:
Favorite Characters:
(Not one of yours)
Favorite Genre:
Favorite Books:
Favorite Movies:
Favorite Games:
Favorite Shows:
Favorite Music:
Favorite Bands:
Favorite Songs:
Favorite Sports:
Favorite Stores:
Favorite Subjects:
Favorite Numbers:
Favorite Websites:
Favorite Words:
Favorite Quotations:
(Can be lengthy and philosophical or just simple clichés such as "Every dog has his day)
Least Favorite Colors:
Least Favorite Animals:
Least Favorite Mythological Creatures:
Least Favorite Places:
LeastFavorite Landmarks:
Least Favorite Flavors:
Least Favorite Foods:
Least Favorite Drinks:
Least Favorite Characters:
Least Favorite Genre:
Least Favorite Books:
Least Favorite Movies:
Least Favorite Games:
Least Favorite Shows:
Least Favorite Music:
Least Favorite Bands:
Least Favorite Songs:
Least Favorite Sports:
Least Favorite Stores:
Least Favorite Subjects:
Least Favorite Numbers:
Least Favorite Websites:
Least Favorite Words:
Least Favorite Quotations:
(Can be lengthy and philosophical or just simple clichés such as "Every dog has his day)
Languages:
(What languages does your character speak and how fluently?)
Accent:
(Self explanatory)
Voice:
(High pitched, low pitched)
Speech Impediments:
(Stutters, slurs, or whistles)
Greetings and Farewells:
(How does your character say hello and goodbye?)
State of Mind:
(Ask your character "how are you" and see how they respond)
Compliment:
(Have your character say something nice)
Insult:
(Have your character insult someone)
Expletive:
(Can be an actual cuss (Ex: Dammit) or some kind of substitute. (Ex: Darn it!)
Laughter:
(What does your character's laugh sound like?)
Tag Line:
(Something your character says a lot in everyday sentences. Can often be filled with a sound or vocalization. Ex: Lol, dude, uh)
Signature Quote:
(Something significant your character says. Doesn't have to be meaningful, just make it memorable.)
Reputation:
(What does the general population think of your character?)
First Impressions:
(What would you first think of this character upon meeting them?)
Stranger Impressions:
(If someone was told about the character but didn't know them, what would they think?)
Friendly Impressions:
(What do people who are friends or acquaintances of your character think of them?)
Enemy Impressions:
(What do people who can't stand your character think? If you can't think of anyone who hates your character, we have a problem.)
Familiar Impressions:
(What do people very close to your character think of them? Ex: Family, lovers)
Compliments:
(What are some good things other people would say of your character? [heroic, good listener])
Insults:
(Would anyone like to call your character a whore, jerk, or stupid?)
Self-Impression:
(What does your character really think of themselves deep down?)
MBTI Personality Type:
[Ex: ENTP, ISTJ]
Temperament:
(Chloric/Sanguine/Melancholic/Phlegmatic) May also be called color types, such as yellow, red, blue, or green)
Enneagram:
(The Reformer/The Helper/The Achiever/The Individualist/The Investigator/The Loyalist/The Enthusiast/The Challenger/The Peacemaker)
Ego/Superego/Id:
(Superego is aims for perfection, society, and the idea of right and wrong. Id is unconscious desires and instincts - Which of these are they most driven by?
The Self:
(The center/core of your character)
The Shadow:
(The opposite qualities your character themselves does not believe they possess, but do subconsciously)
The Anima/Animus:
(The part of the character of the opposite gender)
Persona/Mask:
(What they present to the world, or the side they use to protect themselves)
Role:
(What purpose does your character serve? [mentor, leader])
Fulfillment:
(How well do they serve that role?)
Significance:
(Why does your character matter?)
Alignment:
(Good/Evil/Neutral/Lawful/Chaotic)
Comparison:
(Compare your character to some kind of animal, object, or anything else you can think of.)
Symbol:
(Does your character have any kind of recurring symbol that represents them? [Ex: a rose, a black cat, a sunset] Could be blatant or subtle.)
Song:
(A song you think best suits your character)
Vice:
(Pride/Greed/Gluttony/Lust/Envy/Sloth/Wrath)
Virtue:
(Patience/Diligence/Chastity/Temperance/Charity/Kindness/Humility)
Defining Moment:
(This is it. The single greatest moment of your character, when they truly become alive.)
Tropes:
(What about your character is stereotypical or cliched? [You can't say nothing. Every character has some kind of cliche in them])
Originality:
(What makes your character different from one like them?
One Word:
(Use a single adjective to sum up your character in a nutshell)[ /color]